MDC Mould, as a professional SMC Mold maker in china, provided SMC Mold as well as solution in heavy truck industry.
SMC (Sheet Molding Compound) works well for heavy duty truck parts, especially ones requiring complexity, strength, and impact resistance.  One of the projects MDC mould is working on is a heavy truck with these SMC parts, including roof spoiler and passenger's truck fender extensions.  Each of these SMC parts is very complex in geometry because of its complex application. The following is a picture of one of the SMC fender extensions.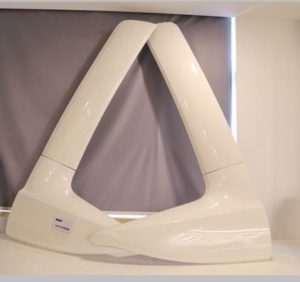 If a part needed this much complexity was manufactured with sheet metal, it would have many more pieces of the assembly and much more bracing.  Metal would also not have the resistance to corrosion and impact that is enjoyed by this composite part.
This fender extension with SMC material is from a truck that has been on the road since 1993, with over 270,000 miles on it.  So you can obviously see that composite material has a good application.
Please keep us informed when any new projects required for discussion.
MDC Mould&Plastic Co.,ltd
No.35-1 Qingfeng road, Huangyan North industrial estate, Taizhou city, Zhejiang, China 318020
T:+86-576-84616076; F:+86-576-84616079
E-mail:master@zjmdc.com