BMC named Bulk Moulding compound, is glass fiber reinforced thermoset polymer material used in compression molding, as well as injection molding, and transfer molding. Its application includes electrical, automotive, bathroom, etc.
MDC Mould, as a professional BMC mold maker in china, can make this type of mold with process of injection molding and compression molding. At this moment, MDC Mould has produced BMC mold in electrical industry, as well as bathroom industry and Automotive industry, such as BMC lamp housing, BMC washing basin, and BMC head lamp, etc.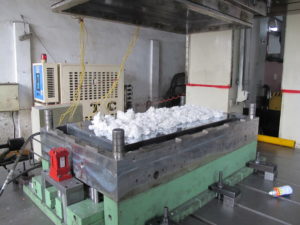 Depending on end customer use, compounds are formulated to achieve tight dimensional control, flame resistance, high dielectric strength, corrosion and stain resistance and color stability. Its excellent flow characteristics make BMC well suited to a wide variety of applications requiring precision in detail and dimensions. The material is available in a wide variety of colors. Meanwhile, BMC injection mold is also available for MDC Mould, as we have 600T BMC injection machine for testing and small volume production.
Please keep us in touch, when any doubts:
MDC Mould&Plastic Co.,ltd
No.35-1 QingFeng Rd, Huangyan North Industrial estate, Taizhou City, ZheJiang Province, china 318020
Tel:+86-576-84616076; Fax:+86-576-84616079
E-mail:[email protected];