MDC Mould, as a professional SMC mold maker, has focus on composite mold including different process of technologies in Bathroom industry over 15 years.
Just take shower tray for example. In previous, these shower trays were used ceramics technology. But nowadays, it's almost completely replaced by SMC, which is amazingly strong while also remaining light in weight. Moreover, the material is non-hygroscopic, non-corrodible and ideally suited for aesthetically pleasing shower trays. These fantastic properties made SMC the best choice of material for the manufacture of the shower tray range.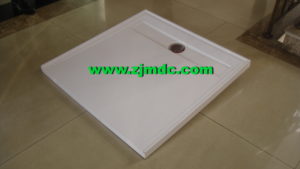 MDC Mould has successfully supplied SMC shower tray mold to customers all around the world. These shower trays are best in class and are very popular because of their extreme toughness and low weight design.
We have received extensive positive feedback about the mold running condition, and end customers are very satisfied with these products installation.
If you are looking for any similar SMC shower tray mold, please keep us in touch and speak with our technical experts. Our team of specialist are standing by to discuss your requirements you may have, and to help you get the exact product solution that you need.
MDC Mould&Plastic Co.,ltd
No.35-1 Qingfeng Rd, Huangyan North Industrial estate, Taizhou City,ZheJiang province, China 318020
T:+86-576-84616076; F:+86-576-84616079
E-mail:[email protected];